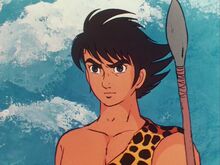 Ryu (リュウ Ryū) is the main protagonist of the Ryu Trilogy. He spent most of the series traveling to various parts of the prehistoric world, accompanied by Ran and her brother Don searching for his mother.
Ryu was born a white-skin, which was considered a sign of bad omen during his time. His mother, Esta, was forced by her tribe, the Big Horn Tribe to abandon Ryu and sacrifice him to the man-eating Tyrannosaurus, Tyranno. Luckily Kitty, a female ape, who had just her own child to the Tyranno, found Ryu and raised him as her own. Years have gone by and Ryu aventually grew into a young man with durable strength and agility.
Ad blocker interference detected!
Wikia is a free-to-use site that makes money from advertising. We have a modified experience for viewers using ad blockers

Wikia is not accessible if you've made further modifications. Remove the custom ad blocker rule(s) and the page will load as expected.